On Thursday July 22, 2010 at 3:06am while everybody was asleep, these 2 guys trespassed on my property then disconnected the battery charger from Richard's Harley & stole it.
The link below is the recording from my surveillance camera showing what they did:
Click on either picture below to watch the video. You will need the latest version of RealPlayer to watch it,
$200 REWARD
If you recognize these guys and would like to tell me who they are and lead me to them.
What this means is that I will give you $200 if information you provide leads to the arrest and conviction of the above mentioned people.
If you are one of these persons who stole this battery charger, I will forget all about this if you return it.
A police report has been filed & DVD's have been given to my neighbors. Flyers will also be posted at local businesses.
Download a flyer: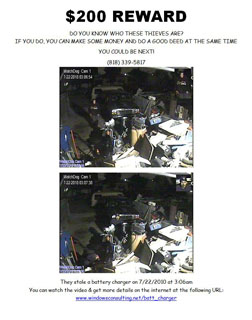 Remember, "what goes around, comes around"
If you have any information, you can email me by clicking here
This page was last updated on Wednesday August 5, 2010